Not a gun or tactical gear review today.
Today I will be doing a short review about a couple small parts I just put in my m4's gearbox.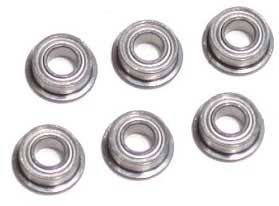 These are Guarders 6mm Ball Bearing Bushings,
Now talk about taking a large amount of stress off of my gears and motor.
I popped these suckers in last night and put my rifle back together, and I was immediately amazed at the difference. Not only did it make my gearbox run smoother, I'm pretty sure it increased my ROF as well.

If you have an older AEG that has steel or nylon bushings, do yourself and your gun a favor and get a set of these.

For about $20.00 you cant go wrong.